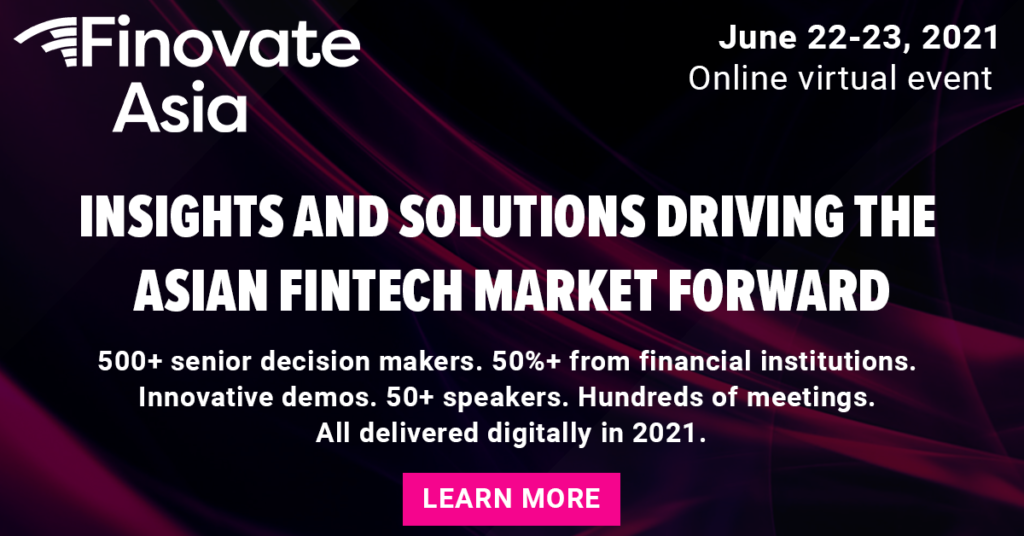 June 22-23, 2921
Online virtual even
THE INSIGHTS AND SOLUTIONS DRIVING ASIAN FINTECH FORWARD
Fintech innovation doesn't wait and you shouldn't have to wait either. Moving FinovateAsia to a digital event in 2021 allows you to move your business forward and stay up to date despite the unpredictability of travel plans.
500+ senior decision makers. 50%+ from financial institutions. Expert speakers and insightful demos of new tech. All delivered digitally.
See how the startup ecosystem is responding to the current climate of the industry. Learn about new innovations that are supporting customers today. Find the technologies and connections to keep you relevant tomorrow and connect with people who can help you take your business to the next level.
The agenda will feature expert-led sessions that will be live streamed across 2-days. Plus, everything will be available to attendees on-demand after the event.
Digitally meet a global audience of key fintech influencers and discuss trends impacting the industry through an immersive online platform. Create a personalized profile, send messages, arrange virtual meetings, and interact with speakers and fellow attendees in live chat Q&A and polls.
Every aspect of the program has been evaluated to ensure your digital experience will deliver maximum value.
Learn more here and save 20% with discount code FKV2394FOW