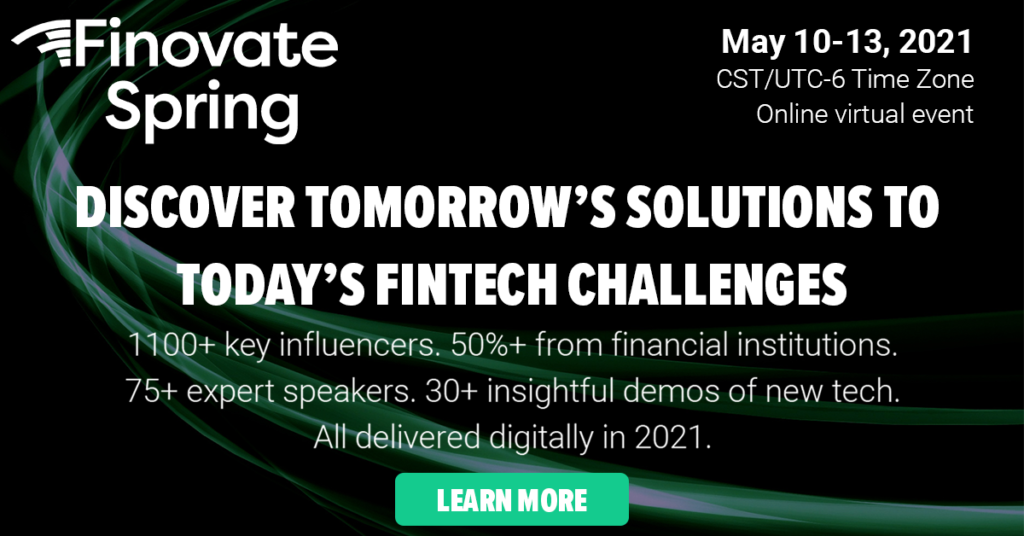 FinovateEurope
May 10-13, 2021
Online virtual event
DISCOVER TOMORROW'S SOLUTIONS TO TODAY'S FINTECH CHALLENGES.
Fintech innovation doesn't wait and you shouldn't have to wait either. Moving FinovateSpring to a digital event in 2021 allows you to move your business forward and stay up to date despite the unpredictability of travel plans.
1100+ key influencers. 50% from financial institutions. 100+ expert speakers. 30+ insightful demos of new tech. All delivered digitally.
See how the startup ecosystem is responding to the consequences of the pandemic. Learn about new innovations that are supporting customers today. Find the technologies and connections to keep you relevant tomorrow.
Every aspect of the program was reassessed for a virtual event to ensure the digital experience will deliver maximum value. Day 1, will be devoted to interactive roundtables allowing you to meet our expert speaker face-to-face and discuss the issues at the top of your agenda. Days 2 & 3 will be a mixture of demos, interviews, keynotes and panels. Day 4, FinDEVr, will allow you to meet and interact with the developers creating the latest fintech solutions.
Digitally meet a global audience of senior fintech decision makers and discuss trends impacting the industry through an immersive online platform. Create a personalized profile, send messages, arrange virtual meetings, and interact with speakers and fellow attendees in live chat Q&A and polls.
Learn more here and save 20% with discount code FKV2376FOW