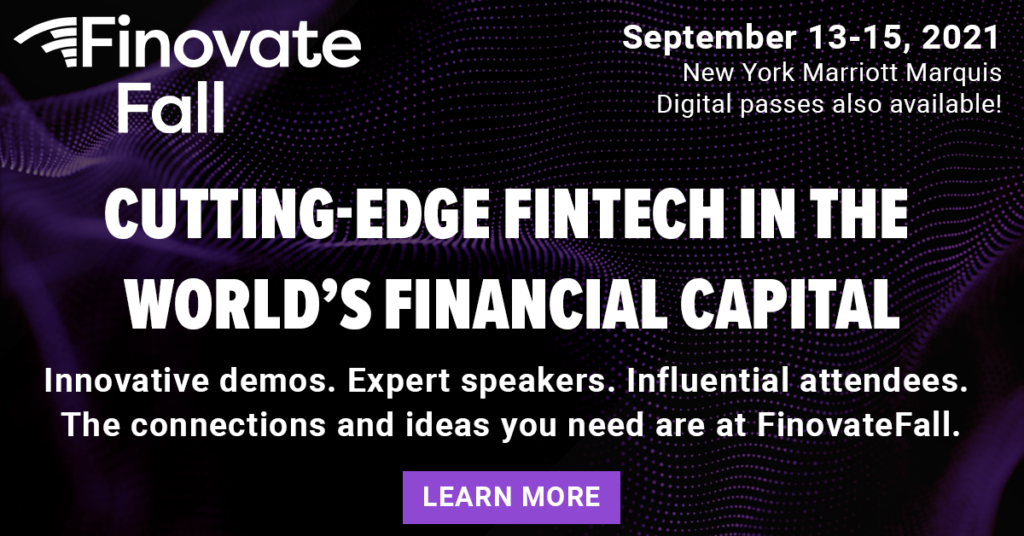 FinovateFall
September 13-15, 2021
New York Marriott Marquis, NYC
Digital only passes also available
CUTTING-EDGE FINTECH IN THE WORLD'S FINANCIAL CAPITAL
Innovative demos. Expert speakers. Influential attendees. The connections and ideas you need are at FinovateFall.
FinovateFall is returning to New York City on September 13-15 as they welcome everyone back to their first physical event in more than a year.
This is your chance reconnect face-to-face with the fintech community and plot a course for the future. With live demos of innovative fintech solutions, expert advice from key influencers, and unparalleled networking opportunities with senior decision-makers, there's no better place to place to find your path forward.
Capacity may be limited due to city and state health guidelines, so lock in your spot early to guarantee yourself a seat. Click here to get the latest information on how Finovate is bringing the industry back together safely in NYC.
For those that cannot attend in-person, a digital pass will also be available. More information on the digital pass can be found here.
Click here to join us at the event and save 20% with discount code FKV2375FOW